We are pleased to announce that we have a wonderful litter of pomeranian spitz puppies.
On January 16, 2 females and 3 cream-colored males were born.
Our dogs are members of our family, they live with us and accompany us in everyday life.
Puppies born with us are socialized, well-groomed and surrounded by comprehensive veterinary care from the very first moments of their lives. Puppies are properly stimulated and prepared for the best possible start in a new life. Puppies, apart from their mother, also have contact with other dogs.
On collection day, each puppy will be dewormed twice and vaccinated according to age.
Each puppy will also receive an export pedigree and a contract.
The purchase of a puppy with a pedigree does not oblige to participate in shows, but it is a guarantee of purchasing a purebred dog from selected parents with characteristics typical for the breed.
Each toddler will be marked with a chip.
We are looking for loving and responsible homes where our puppies will be family members.
The life of dogs from our kennel can be seen on facebook: Moonland FCI
Contact details:
www.moonlandfci.pl
fb: Moonland FCI
phone number +48 601 890 629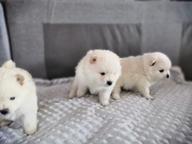 Category: Dogs for sale
Papers: Yes, it has
Breed: Pomeranian
Gender: Bitch, Male
Date of birth: 16. Jan, 2022
Price: 1700 EUR