Dogs and puppies for sale in Belgium
Official name: Kingdom of Belgium
Continent: Europe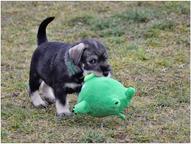 Family kennel offers beautiful, healthy puppies of standard schnauzer peppersalt with pedigree (FCI), vaccinated, chipped, with pet-passport. Both parents have health tests, very successful at shows,...
Last update: 08. Feb, 2020
Price: 700 EUR
Breed: Schnauzer (182)
Category: Puppies for sale

They are great with adults,children,sheep,cats and other dogs.They love everybody.These two deserve a home where they will be cherished. Would prefer them to stay as a pair.
Last update: 21. Aug, 2018
Price: 170 EUR
Breed: Samoyed (212)
Category: Puppies for sale