Chinese Crested Dog (288) puppies for sale
DOB: 19.05.2017 Sire: Tiger Molosos Gratzi Dam: Mimi Dog Doll Lambada PRA/PLL - clear by parents Nice size, perfect anatomy, great temperament for show. Pedigree: http://www.chinesecrested.no/pedigree...
Last update: 25. Sep, 2018
Country: Ukraine
Price: 1000 EUR
Category: Puppies for sale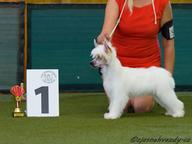 Beautiful 3 puppies - males Chinese crested dog are looking for loving show home or loving pet home. White males have perfect anatomy, good teeth and great show character! Powderpuff male won BIS pup...
Last update: 18. Aug, 2016
Country: Czech Republic
Price: 500-800 EUR
Category: Puppies for sale