Dogs and puppies for sale in Czech Republic
Official name: Czech Republic
Continent: Europe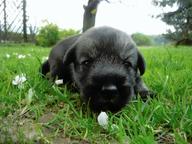 Top quality standard schnauzer peppersalt puppies for sale out of Interchampions parents and grandparents!More info in our HP www.glorialeones.wz.cz. Photogallery: http://www.facebook.com/media/set/?s...
Last update: 08. Feb, 2013
Price: 500.00 EUR
Breed: Schnauzer (182)
Category: Puppies for sale
CHS from Krupičkova mill offers for sale a beautiful female puppy with pedigree after quarte Framato Rola (Ken vom Elzmündungsraum). For more info on the web in the section www.shakalli.wz.cz sale / f...
Last update: 08. Feb, 2013
Price: 0.00 EUR
Breed: German Shepherd Dog (166)
Category: Dogs for sale
Pages