Great Swiss Mountain Dog (058) puppies for sale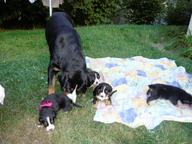 We offer puppies Great Swiss Mountain Dog with the PA after show successful parents. We have three boys and one girl. Mother is Ch. Filipa Irving (HD A, ED 0, OCD. Neg) and father Ch. Bastien Rodyry P...
Last update: 08. Aug, 2013
Country: Czech Republic
Price: negotiable
Category: Puppies for sale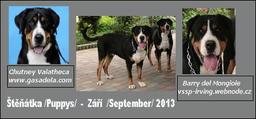 Great Swiss Mountain Dog puppies with pedigree are available! Pick up date will be in the end of September. Mother: Chutney Valatheca HD A/A, ED 0/0, OCD neg. Father: Barry del Mongioie HD A/A, ED 0/0...
Last update: 07. Jul, 2013
Country: Czech Republic
Price: nogatiable
Category: Puppies for sale