Neapolitan Mastiff (197) puppies for sale

Blue color (color genetics), incredible backbone and excellent anatomy. Have a great perspective for exhibitions and breeding. All puppies are from parents strong bones, strong limbs, large heads and...
Last update: 15. Aug, 2018
Country: Russia
Price: 1500 EUR
Category: Puppies for sale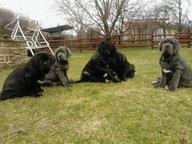 Quality Neapolitan Mastiff puppies for sale from champion bloodline.High quality neapolitan mastiff puppies from Hungary ,from the best Italian and Hungarian champion bloodlines. Contact:diaugustino.m...
Last update: 10. Mar, 2013
Country: Hungary
Price: 700 euro
Category: Puppies for sale