Dogs and puppies for sale in Russia
Official name: Russian Federation
Continent: Europe

Blue color (color genetics), incredible backbone and excellent anatomy. Have a great perspective for exhibitions and breeding. All puppies are from parents strong bones, strong limbs, large heads and...
Last update: 15. Aug, 2018
Price: 1500 EUR
Breed: Neapolitan Mastiff (197)
Category: Puppies for sale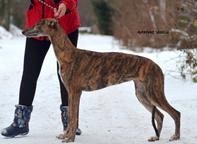 Kennel "Artefakt" offers for sale teenager of the Greyhound (English Greyhound) From the wonderful titled pair Artefakt Nobleman (Magnate) and Artefakt Vivat (Oda) Pedigree: http://greyhound...
Last update: 09. Mar, 2018
Price: 1500 EUR
Breed: Greyhound (158)
Category: Dogs for sale

We offer the puppy of Petit Braboncon. The puppy is active, nice, healthy has Pedigree and all necessary documents. Nice for shows. All informatoin and photos in Facebook or mariasb@mail.ru Can be del...
Last update: 10. Aug, 2016
Price: Negotiable
Breed: Belgian Griffon (081)
Category: Puppies for sale