Dogs and puppies for sale in Ukraine
Official name: Ukraine
Continent: Europe

Delivered to any country is possible. All export documents are ready. 2 Isabella boys are available. Fully vaccinated, microchiped, DOB - 01 AUG 2016 Father is champion and from France - In-Extremis D...
Last update: 28. Dec, 2016
Price: 350 EUR
Breed: Italian Greyhound (200)
Category: Puppies for sale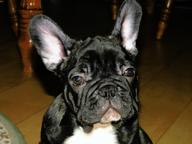 puppies for sale from FCI kennel "MA BELLE AMIE" f. - CH. A'VIGDORS SECRET DE LA VICTOIRE(Inter.CH. Honore De Tamerlan x CH. A'vigdors Bona Mente) m. - CH. SZASZ FABRECIO DELL TION...
Last update: 22. Apr, 2014
Price: 1300 eur
Breed: French Bulldog (101)
Category: Puppies for sale

French bulldog pups for sale, male and 2 females. father - ZON MIREKL RED ROVER mother - LEANTO LAIZA MINELLI
Last update: 08. Feb, 2013
Price: 500.00 EUR
Breed: French Bulldog (101)
Category: Puppies for sale