Bearded Collie (271) puppies for sale

Puppies born on June 14, 2022. in our home kennel they are looking for loving homes 🏠 Hodowla Sempre Marabilloso (Poland) parents: m. Charlotte Sometimes Del Cuore Impavido 🇮🇹 CIB, Champion of Po...
Last update: 26. Jul, 2022
Country: Poland
Price: 1200 euro
Category: Puppies for sale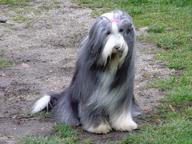 Puppies with export FCI pedigree, champion bloodline, parents and grandparents are HD-free. Export to worldwide acceptable.
Last update: 15. Mar, 2017
Country: Czech Republic
Price: 800 EUR
Category: Puppies for sale