Briard (113) puppies for sale

Kennel La Xalia Noire offers black puppies from litter D. Both parents are champions and the mother has two tests of herding sheep. Puppies grow up in a family environment. At the time of departure to...
Last update: 23. Apr, 2018
Country: Czech Republic
Price: Agreement EUR
Category: Puppies for sale

Briard available - Kennel Dourebrie - puppies were born 10.5.2017, C.I.B. Isabela Gasaron x Ch. Calamity Jack Dalido, http://dourebrie.sweb.cz. News, news for all lovers and fans of the briard breed....
Last update: 27. May, 2017
Country: Czech Republic
Price: Negotiable
Category: Puppies for sale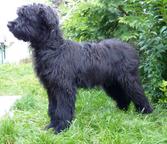 Buy a black dog with pedigree, born April 6, 2013, fully vaccinated, dewormed, microchipped, even temperament, excellent family, info on boramo@centrum.cz
Last update: 07. Nov, 2013
Country: Czech Republic
Price: agreement
Category: Dogs for sale