Schipperke (083) puppies for sale
Dobrý den nabízím 6 měsíční fenku šiperky. Důvod prodeje je ten, že na ni nemám čas a nechci aby doma trpěla, je zvyklá na byt ráda se přátelí s ostatními zvířátky i lidmi. Je hodná, učenlivá a šílený...
Last update: 24. Sep, 2018
Country: Czech Republic
Price: 8000 Kč
Category: Puppies for sale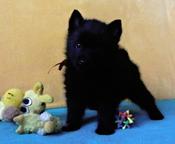 Schipperke puppies for sale - male dog with pedigree FCI - after a very successful parents at shows. For sale puppies beginning of March 2013. Colour black,weight 3-8 kg. The dog will be chipped, vac...
Last update: 03. Mar, 2013
Country: Czech Republic
Price: 800 euro
Category: Puppies for sale