Australian cattle dog
Female:Grand Ch.Boorowa od Dorrinky Bobina
Bobina is beautiful red speckled colored, with strong pigmentation.It features true cattle dog. The dynamic and elegant motion. When working with animals is relentless and uncompromising from the first introduction of cattle instinctively work, work abilities to work with cattle is highly inbred.The family is committed against strangers kept aloof, house and family of the guard, has developed a strong watchdog instinct. It is manageable, disciplined, with great enthusiasm to learn.
Breed: Australian Cattle Dog (287)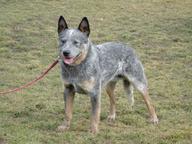 Breeder's active classifieds
Breeder's dogs
Breeder has no registered dogs.