Dobermann (143) puppies for sale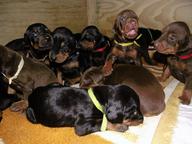 Doberman - with black and brown puppies with pedigree after top parents, both parents are more participants in the World Championships Doberman IPO3, both have a very nice outdoor area. Mother: Juliet...
Last update: 09. Nov, 2015
Country: Czech Republic
Price: 1300 euro
Category: Puppies for sale
High quality dobermann puppies are for sale in Hungary/Europe. Both Sire and Dam have outstanding pedigrees. They have various show results and titles from different European countries and judges as w...
Last update: 01. May, 2014
Country: Hungary
Price: 400 EUR
Category: Puppies for sale