Doberman - with black and brown puppies with pedigree after top parents, both parents are more participants in the World Championships Doberman IPO3, both have a very nice outdoor area.
Mother: Juliette Josephine Alary Aslar, excellent, Champion of the Czech and Slovak Republics, often CAC res. CACIB, BH, IPO-V, IPO3, FPR2, ZZO, ZM, ZVV1, 2 x participation in the World Cup after IPO3 Doberman (2014 No. 11), Junior Cup 1st. HDA.
Father: Hayco van het Genebos, excellent, Inter Champion, Ambiorix Winner 2011, Belgian Champion, Norwegian Champion,
Work BDCB Master 2012 Master 2014 BDCB working 3x participant of the World Doberman IPO3 (2015-15.místo), BH, IPO3, CQN, HD / A - vwd clear - PHTVL / PHPV neg.
Puppies have a large labor potential, they are also very promising for breeding ..... Please only serious candidates !!!! mail: d.cahova@seznam.cz. Czech Republic.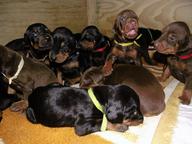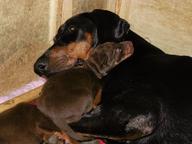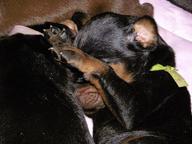 Category: Puppies for sale
Papers: Yes, it has
Breed: Dobermann (143)
Gender: Bitch, Male
Date of birth: 18. Oct, 2015
Price: 1300 euro