German Boxer (144) puppies for sale

We have two boxer males available. Both parents health tested FCI pedigree Sir: ICh Wow Wow vom Kaiserfelsen Dam: JCh Freya II Karmapa jefrabox@gmail.com
Last update: 06. Oct, 2020
Country: Slovakia
Price: Negotiable
Category: Puppies for sale

Hello! I am selling dogs breed boxer. It is three times odrobaczony and inoculated with the booklet health metric Kennel Club (FCI) and the chip. Boxer comes after successful parents: Father: TRANDUIL...
Last update: 09. Nov, 2015
Country: Czech Republic
Price: 500 EUR
Category: Puppies for sale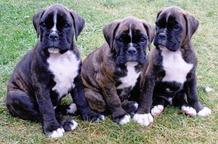 Beautiful and healthy puppies with pedigree Boxer looking for new caring and loving owners. F: BIG BOSS Signum Laudis M: HELLA Boxrelay call +421905259664
Last update: 19. Jul, 2014
Country: Slovakia
Price: negotiable
Category: Puppies for sale
High quality boxer puppies for sale. 3 fawn males. Father: MultiCh. Commandante di villa Hunnicum (Ferrary de las Arillas' son) Mother:Kázsé-box Dolce Vita (Puskas II de las Arillas' daughter) More in...
Last update: 19. Sep, 2013
Country: Hungary
Price: 1000 EUR
Category: Puppies for sale