Hungarian Short-Haired Pointing Dog (057) puppies for sale

A new litter of excellent Hungarian Short-haired Pointing dog (Vizsla) puppies were born on 09.06.2023. Only boys available. Sir: GURU CARAMBOL of Berzoras (F. Fenyoligetti Jeger & M. Guarana of B...
Last update: 04. Aug, 2023
Country: Lithuania
Price: Negotiable
Category: Puppies for sale
Champion class Hungarian Vizsla puppies. Mother Neva Mažas Brolis - Latvian, Lithuanian, Estonian and Baltic champion. Both parent lines have national and international champions. Father Malomkozi Pom...
Last update: 01. Jul, 2023
Country: Latvia
Price: 1000.00 EUR
Category: Puppies for sale

we Have beautiful puppies for sale. Helga (mother) has had her first litter of 8 Beautiful puppies ONLY 4 BOYS LEFT!! They come with a full Health check wormed viszla Club registered with puppy pack....
Last update: 07. May, 2015
Country: Slovakia
Price: 500 eur negotiable
Category: Puppies for sale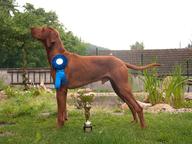 Jantar Devil kennel offers puppies for sale after successful parents. DUNA Jantar Devil - DBK 0/0 x ASTON z Čertovy rokle - 0/0. Puppies will be available at the end of June in Slovakia.
Last update: 03. Jun, 2014
Country: Slovakia
Price: 650 EUR
Category: Puppies for sale