A new litter of excellent Hungarian Short-haired Pointing dog (Vizsla) puppies were born on 09.06.2023. Only boys available.
Sir: GURU CARAMBOL of Berzoras (F. Fenyoligetti Jeger & M. Guarana of Berzoras) LTJCH,LVJCH,ESTJCH,BALTJCH,LTCH,ESTCH.
Dam: UNICUM SAMBA of Berzoras (F. Unicum of Skyrocket & M. Akira of Berzoras) LTJCH,ESTJCH,LVJCH,BLRJCH, LTJGCH, BALTJCH,LTCH,LTGCH,ESTCH,BLRCH
Both parents; HD-A, ED 0/0, SP O/0, OCD(-/-), L/L ,eyes-clear, Hair carrier gene free, DNA profile-certificate
Puppies in our kennel are born at home and raised in excellent conditions. They are under veterinary and behavioral care from the beginning.
Puppies to be picked up will be the end of September 2023, after the review of the litter.
They will receive EU Passport and FCI pedigree.
They will be dewormed, chipped and vaccinated according to their age.
Feel free to contact people ready to give puppies a loving home. If you are interested, we invite you to visit our kennel to get to know the breed up close.
For more information, many pictures, videos and reservation: https://www.instagram.com/vizsla_reja_rube/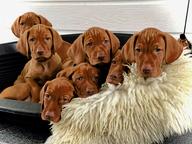 Category: Puppies for sale
Papers: Yes, it has
Breed: Hungarian Short-Haired Pointing Dog (057)
Gender: Male
Date of birth: 09. Jun, 2023
Price: Negotiable