Moscow Watchdog puppies for sale

We offer for reservation a puppy Moscow watch dog, born on November 1, 2022 from the breeding station Slovácké srdce. Puppies you can see in Czech republic near to Uherske Hradiste. Puppies will have...
Last update: 24. Nov, 2022
Country: Czech Republic
Price: Negotiable
Category: Puppies for sale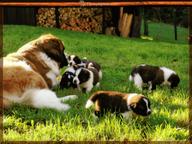 If you're looking for fearless guardian, but also for the loving family member, the Moscow watchdog is the best choice. Our puppies have a beautiful exterior and excellent character. Puppies are fully...
Last update: 23. Sep, 2014
Country: Slovakia
Price: 630 + shipping
Category: Puppies for sale