Tibetan Spaniel (231) puppies for sale
We have beautiful puppies of Tibetan spaniel with Pedigree for sale. If you are interested about our puppies, please write about you some words and your expectations: ada.hanusova@gmail.com Puppies...
Last update: 20. Mar, 2014
Country: Slovakia
Price: negotiable
Category: Puppies for sale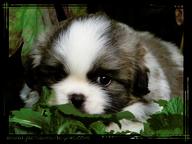 Tibetan Spaniel - Puppies with Pedigree (particolor, and tricolor and black & tan), father of Inter + MultiChampion Allister Bohemian by Birth (linie: of Lollipop and Dragonsong), mother Isis Perl...
Last update: 08. Feb, 2013
Country: Czech Republic
Price: 500.00 EUR
Category: Puppies for sale