We have been breeding longhaired begians for more than 15 years. Not many litters, but we focus of health and character and not \overused\" bloodlines. Despite living in the central Europe, we still produce perfect Belgians and have no problem to ship them all over the world.
This year (2011) we have tried also malinoises from the intervariety mating."
Breed: Belgian Shepherd Dog (015)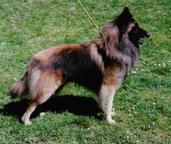 Breeder's active classifieds
Breeder's dogs
Breeder has no registered dogs.