Dogs and puppies for sale in Romania
Official name: Romania
Continent: Europe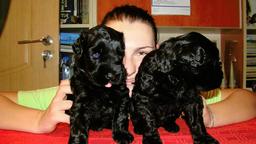 Puppies are born in Romania, kennel "Inima Mea". Father: Multi Ch. Zimorodok S Zolotogo Grada Mother: Multi CH. Sibirski Medved Legenda Rossii
Last update: 26. Apr, 2014
Price: 800.00 EUR
Breed: Russian Black Terrier (327)
Category: Puppies for sale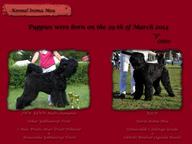 We offer for sale puppy male. HD-A, JWW, EUW, Multi Ch OSKAR Yablunevyi Tsvet x J Ch Ro Daria Inima Mea. For more informations please contact us trough email.
Last update: 24. Apr, 2014
Price: 800 EUR
Breed: Russian Black Terrier (327)
Category: Puppies for sale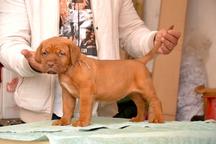 Dogue de Bordeaux puppies for sale, males and females, with pedigree, parents judged in contests, father is Romanian Champion at junior section.
Last update: 08. Feb, 2013
Price: 400.00 EUR
Breed: Dogue de Bordeaux (116)
Category: Puppies for sale