Poodle (172) puppies for sale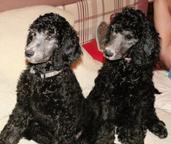 Last males. Three months old. and vaccinations, Europass, exhibitions, sport, therapy dog ​​as a pet. Beautiful head, strong bones. Parents champions. Intelligent breed suitable to the family.Kobe 10...
Last update: 11. Jan, 2014
Country: Czech Republic
Price: 800 Euro
Category: Puppies for sale

Kennel Mysterium accept reservations for puppy male from this promising combination. Puppy will be suitable for shows, breeding and sport. Puppy will have in pedigree top linie of Australia (HYTHERE),...
Last update: 08. Feb, 2013
Country: Czech Republic
Price: 500.00 EUR
Category: Puppies for sale