Miniature Schnauzer (183) puppies for sale

Kvalitetni štenci belog patuljastog snaucera. Antialergijski. Odgojeni u porodici, socijalizovani. Takmičarski potencijal.
Last update: 21. Nov, 2022
Country: Serbia
Price: Po dogovoru
Category: Puppies for sale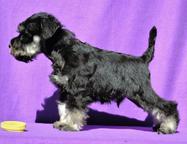 Show quality puppies with export pedigree, passport, vaccinations are ready to leave our kennel. Parents are multi champion, genetic tests available. More info personal
Last update: 05. Oct, 2022
Country: Romania
Price: 600 EUR
Category: Puppies for sale

Kennel Tarr-Winn offers puppies born 11.04.2019. The puppies are completely vaccinated, chipped, with Europas. They come from a high-quality connection to parents. Mother Gaga Lady Astonaut from Czech...
Last update: 27. Aug, 2019
Country: Czech Republic
Price: 700 Euro
Category: Puppies for sale