Weimaraner (099) puppies for sale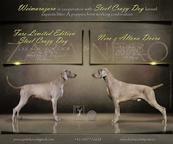 I take reservations for weimar puppies. Only male puppies are available for booking. I will provide more information by e-mail or by phone.
Last update: 25. Jun, 2020
Country: Slovakia
Price: Negotiable
Category: Puppies for sale
We accept booking of our puppies from a proven, top-notch combination of excellent parents, exterier and character preconditions. Father: Marfy's Conty (Cuba's brother from Marfy the Vice-World Champi...
Last update: 11. Jun, 2018
Country: Czech Republic
Price: Price with personal booking agreement
Category: Puppies for sale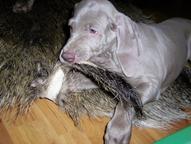 In the end of March 2015 weimaraner puppies will be born at our kennel. The parents will be Pl.CH., J.PL.CH, J. CLub Winner UDRA IMPERIUM STAR and BERO vom Feuerbach. More info at our website: www.wei...
Last update: 27. Jan, 2015
Country: Poland
Price: 1000 EUR
Category: Puppies for sale

CHS Tigrie oko zada steniatka
Last update: 26. Jan, 2015
Country: Slovakia
Price: 500EU
Category: Puppies for sale