Chic appearance incredible red color guys from the collection of precious stones of the Wildlife Magic kennel. They are created to be faithful friends for active,enthusiastic people. These dogs are very graceful and beautiful, amazing with their exotic appearance and unusual, soft as velvet wool. Thai Ridgebacks have good intelligence and are characterized by a strong emotional attachment to the owner.
Ardent Murrey Hyacinth - active, energetic, inquisitive, loves to talk
Amazing Imperial Topaz - strong, bright and charismatic, a little shy teenager
Almighty Padparadzha - confident, with excellent temperament, likes long walks and frolics like a puppy.
Let yourself the luxury of taking home an unusual dog!!!
Pedigree: http://www.database.trdclub.net/testmating.php?dam=64656&sire=63799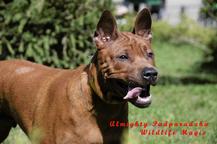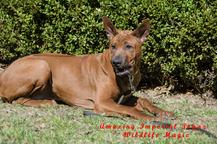 Category: Puppies for sale
Papers: Yes, it has
Breed: Thai Ridgeback Dog (338)
Breed note: Short-haired, super red colour
Gender: Male
Date of birth: 23. Nov, 2016
Price: 1500 Eur