Puppies are born and lovingly raised in our house. Each potential buyer can get plenty of photos of our dogs-children from the their first day of life.
Parents of our puppies are champions and grand champions of many coutries, so we assure you that also all puppies will be excellent representatives of the breed.
We truly hope to find a lovely new home for them. A home where they will be happy, and an owner who is ready to give some of his love and time to them.
For more info contact us on our email,Facebook or web page.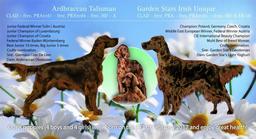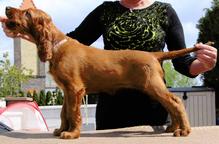 Category: Puppies for sale
Papers: Yes, it has
Breed: Irish Red Setter (120)
Gender: Bitch, Male
Date of birth: 17. Feb, 2017
Price: 1200EUR