The Grossen Tal kennel offers puppies for booking
with a highly promising connection of two interesting individuals.
both mother excellent in every way !!!
The father of the puppies Tor vom Hause Drobny is the most successful junior dog during his show career
champion of Hungary, foreign junior winner of Hungary 2020.
TOR is a maximally functional individual, an excellent protector of his family, companion and friend. loves children
he is a strong big dog with wonderful movement.
X-ray examination of hip joints, elbow joints, JLPP free.
Mother Blues vom Grossen Tal
interesting bitch originating from Serbia with a wide chest, excellent body structure, with beautiful movement, typical head.
Grand Prix Slovakia Minor Puppy Winner 2019
Junior Champion of Slovakia
3xCAJC, 2xJBOB, 2xVV1,
Slovakia Cup JUGENDSIEGERIN 2019
KS, 2020, V3
4xCAC, 3xCACIB, 3xBOB
Slovak Beauty Champion 2020
HD-A ED-0, JLPP-N / N,
Blues is a responsible and excellent caring mother, a healthy bitch.
gave one litter all individuals beautifully typical, healthy.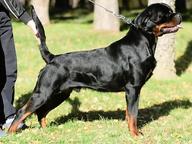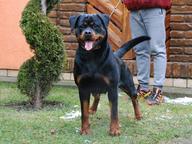 Category: Puppies for sale
Papers: Yes, it has
Breed: Rottweiler (147)
Gender: Bitch, Male
Date of birth: 01. Apr, 2021
Price: Negotiable