Beautiful Borzoi puppies looking for new loving homes.
Puppies with excellent pedigree, directly descended from the famous "Perchino" kennel, founded in 1887 by the grandson of Tsar Nicholas I, the Grand Duke Nicholas Nicolaievich Romanow.
In the past ownership of Borzois was limited to members of the highest nobility and for centuries Borzois could not be purchased but only given as gifts from the Tsar.
The Borzoi is known for its elegant and grateful outline, luscious coat and typical long head. Borzois are generally calm and seen as companion-ship dogs because they form strong bonds with their owners.
Dam - Carica Mariya Albus
Sire - Maksim z Leśnego Potoku
Pedigree: https://borzoi.breedarchive.com/animal/testmating?dam_uuid=e9e8d48b-f346-4415-af93-261a2e178e97&sire_uuid=3079ebf6-e4e4-4142-a903-764bd0e9ef9d
FCI documents, Szczecin, Poland
For more info contact via PM or Whatsapp
Assistance with worldwide delivery 🛫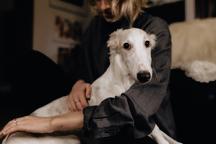 Category: Puppies for sale
Papers: Yes, it has
Breed: Borzoi - Russian Hunting Sighthound (193)
Gender: Bitch, Male
Date of birth: 08. Sep, 2021
Price: 1999 EUR