The Intacto kennel offers the possibility of booking a planned combination of two excellent animals in nature and outdoors.
Date of birth 10.-11. 9. 2021. Litter "G".
Dam: Darma Ilk Panter Intacto (Exc. She grew up in her natural environment - among sheep, in a large paddock. She is also in constant contact with small children and is absolutely tolerant of them. Both the mother and the puppies have the freedom to run in a large area, feeding primarily from quality food. Darma is a darker type of Kangala (especially in the mask), so the puppies also have darker colors. They are still "colored".
Sire: Asil D.K.BUBU (CACIB, Winner of Poland) A powerful individual with a darker color line.
Grandparents:
Soraya Kangal BESINCI PANTER D.K.B junior champion SK, champion SK
PANTER COBRA D.K.Bubu champion PL
All of the pedigree are healthy, show individuals with many diplomas.
If interested, I will send more photos. Available from November 10 - fully dewormed, vaccinated, chipped and with paper. A gift for each - a collar and a name tag.
We have each puppy photographed separately. Bred with love and therefore we are looking for a new home where they will be provided with the same. In case of future needs, it is possible to contact us at any time - we will advise.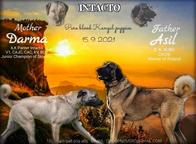 Category: Puppies for sale
Papers: Yes, it has
Breed: Anatolian Shepherd Dog (331)
Breed note: Short - haired
Gender: Bitch, Male
Date of birth: 10. Sep, 2021
Price: 1000 EUR