Akita (255) puppies for sale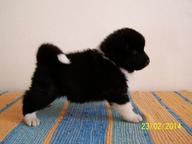 We sell puppy American Akitas from parents with papers. Puppy is 100% healthy, vaccinated, wormed delivery is possible immediately. Dogs are temperamentally balanced, dominant, intelligent, have a uni...
Last update: 06. Mar, 2014
Country: Slovakia
Price: 350
Category: Puppies for sale

We accept reservations for puppies with pedigree Akita, Japan clean lines, red and brindle colors. Both parents nice, quiet character, show successful. Mother L-Amaya Sora Tomimopa - CAC, 2CAC, 2ResCA...
Last update: 15. Sep, 2013
Country: Czech Republic
Price: agreement
Category: Puppies for sale