Kennel Itai Doshin accepts reservations for puppies of japenese Akita Inu with FCI pedigree. Born on 29.5.2022. Father Hakuten Go Hanamaki Tochinaisou, japenese import AKIHO pedigree, AKIHO 87th Hakodate branch show Tokuyuu 1st Honbushou.
Mother Chikara Go Kamiwaza, "multichampion" (champion CZ,SK and PL, grand champion CZ and SK,club junior champion CZ and SK, club champion SK, champion ČMKU). Both parents have very good behavior and numerous official medical examinations: (HD, ED, OCD, PATELLA, SPONDYLOSIS, EYES, TEETH, no long coat carrier).
With mother we do sport cynology (obedience and tracking), hersenwerk, canicross and agility. Our puppies are suitable for breeding and dog shows.
Puppies will be well socialized, used to being at home and outdoor, vaccinated, chipped with europass, purchase agreement. You will get puppy kid: collar with leash, wet food, dry food, cold-pressed food, toys, threats, puppy blanket.
We are looking for a responsible owners for our puppies, who know the requirements of this breed.
We would like to keep in touch after the collection of the puppy so that we know how the puppies are doing.
Pedigree: http://www.akitapedigree.com//testmating.php?dam=108822&sire=96293
For more informations visit www.itai-doshin.com, send me mail, FB or call.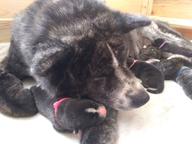 Category: Puppies for sale
Papers: Yes, it has
Breed: Akita (255)
Breed note: Brindle
Gender: Bitch
Date of birth: 29. May, 2022
Price: Negotiable