Beauceron - puppies for sale
Available (black & tan) male and female beauceron puppies from working parents! Puppies recommended for shows, sport, canicross, obedience, frisbee, guarding, family etc.)
Born on November 7th 2016, "Esprit de la Croix Double" Kennel, Slovakia.
Excellent parents line:
Mother: Abilene z Odasu - JCHSR, CAJC, JVSW, CACIB, CAC, BOB, BH/VT, BVK
Father: Choisi z Husovy tvrze - GCHCZ, CHCZ, CHSK, CHPL, CHAT, DE Winner Show, club champion of beauty, Champion International d´Exposition, Champion International de Beauté,
- BH, IPO1, IPO2, IPO3 and many others, - CMBF 2014 (IPO1) - 3th place, CMBF 2016 (IPO3) - 3th place.
We offer socialized puppies with FCI papers, PET passport, vaccination, marking by microchip and purchase contract. All puppies are ready to travel abroad. We help to deliver, if necessary. We can communicate in English, French, Russian (speaking and writing) & German (writing). Contact: beauceron.esprit@gmail.com.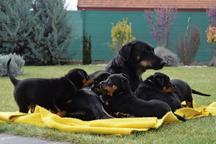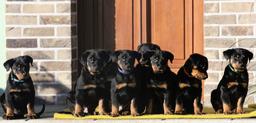 Category: Puppies for sale
Papers: Yes, it has
Breed: Beauceron (044)
Breed note: Black & Tan
Gender: Bitch, Male
Date of birth: 07. Nov, 2016
Price: Negotiable