Dog breeding station ELA CHANEL.
Puppies of great dane with pedigree papers for sale. Parents with exhibitions historky, tested for joints heart and with DNA test.
Colours: black and grey tiger /dogs and bitches/
When picking, up puppies will have DNA test and will be dewormed, vaccinated and chipped with surprise package to their new homes.
You can also pick a name for your puppy /must štart with letter "A".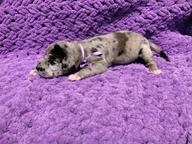 Category: Puppies for sale
Papers: Yes, it has
Breed: Great Dane (235)
Gender: Bitch, Male
Date of birth: 06. May, 2022
Price: 1300 EUR